Intuitive Storytelling for Parents and Educators – 8 week online course beginning Wednesday 10th January 2018
How do you raise your kids with healthy values when they are surrounded by so much junk culture?
How can the stories YOU tell them convey the values that matter most to you?
You want to surround your children with what will nurture them and set them up for a healthy life. You want to pass on to them the values that you live by and that have sustained and inspired you on your journey.
You know that one of the most powerful ways that children absorb values is through stories, and yet many of the stories that the mainstream media tell leave you feeling uneasy. You'd like them to absorb the stories that reflect your unique values, your life lessons and your intuitive knowing.
The Intuitive Storytelling for Parents and Educators Course
This course will teach you how to become an endless font of stories for the children in your life. You will learn how to listen to your inner wisdom and allow it to flow into story-form. By the end of the course you will know how to tell spontaneous stories that express the values that most matter to you, in a language that your children will enjoy and take in as their own.
You also will discover a fun and enjoyable way of spending quality time with your kids, while at the same time developing your creativity and intuition!
The workshop with Leo was fantastic! I´m not an experienced storyteller, but I learned so many useful things at the workshop. I was amazed that I was able to tell stories that made sense, after just one day. I have also used these techniques in an intuitive music concert, and in my writing process, and they have worked great!

Marianne Jørgensen
Participant in 2011 in-person Intuitive Storytelling training with Leo
Oslo, Norway
You will learn
The two most effective ways of receiving the stories your inner storyteller wants to tell you.
The key to establishing a creative, collaborative relationship with your intuition.
A simple and yet powerful practice that undoes perfectionism, allowing you to relax and be yourself while storytelling.
Tips and tricks for bringing your story to life, without having to resort to full costume and props!
How to create the perfect conditions for telling a story, so that it has a special time and place in your day.
You'll map out the values that matter most to you, and then learn how to communicate them to your children in an imaginative and non-didactic way. Rather than just drawing stories from your own life experience, you will learn to tell stories from a deeper storehouse, using the language and symbolism of fairy tales.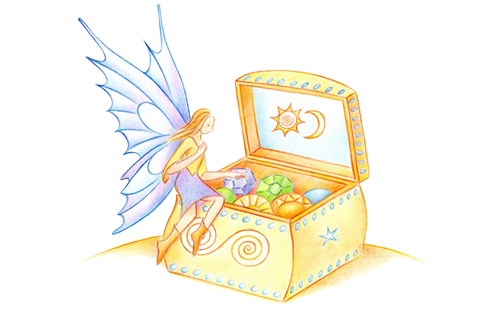 The time for fairy tales
When your children are small their demands on you can feel overwhelming. They seem to want all of your energy, and then more. There are probably times when you find yourself asking "when will this end? I can't take any more!"
But the truth is that this period in their lives, and in your life, is relatively short. By the time they are nine or ten they will start pivoting away from you as their primary source of information about the world, and as they start to become more independent they will stop pulling so strongly on you and your energy.
This is also the time in their lives when they start to move away from the fairy tales they so loved as small children, and start seeking out more sophisticated and worldly stories.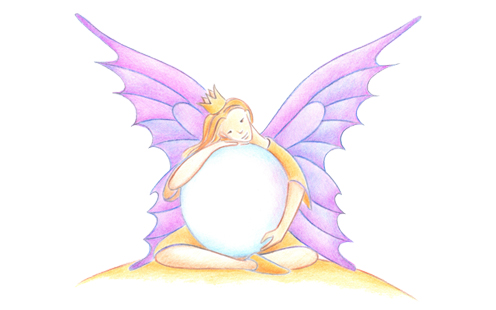 A precious window
So you really have a precious window of opportunity in which you have the largest chance to shape their worldview and pass on your values. And that window happens at the time when their demands on you are greatest.
This course is a chance to give them what they want more than anything else at this time: your full attention. And to do so in a way that speaks the language that they understand best: the language of fairy tales.
I had looked forward to Leo's workshop for many years. I knew that I had a muse who spoke to me, and absolutely relished the chance to share the experience of speaking in the moment. The workshop was everything I hoped for and more.

Steph Newall-Smith
Participant in 2012 in-person Intuitive Storytelling training with Leo
Stroud, England.
My story
I've gone through this with my own kids, so here's a little of my story. I've been a professional storyteller since 1989 and in the last 25+ years have given Storytelling performances and workshops for thousands of children and adults. Intuitive Storytelling has grown out of my twin loves of stories and the inner life.
When my kids were about three I found they could just about follow a simple, short spoken story at bedtime. A year later they could easily listen to a ten minute story, and with each passing year could sit for longer and longer.
Over a four year period I told my kids over one thousand intuitive stories at bedtime, pretty much one every night. It was a beautiful time for us all. I got to express my life's calling with my own kids, and they got to hear lots and lots of stories. Each one was unique, and expressed a value I held dear.
Although the very best of these form the bulk of the stories on Palace of Stories (re-recorded in my professional recording studio) one of the most satisfying things I've found is teaching the principles of Intuitive Storytelling so that parents can tell their own stories to their kids.
Leo's passion for storytelling was clear and inspiring – and the guidance to listen to the callings from within was expertly and sensitively explained. He made it easy to drop from the intellect into intuition – in a non-judgemental way towards self.Everything felt very balanced. He was compassionate, caring and attentive to people's sharings. He was always able to respond – to support people in whatever was happening with them – and reflected it beautifully. No shame. All compassion and excellent tips for better practice, helping each find their way on their path – whatever level they are practicing at. So supportive and encouraging this lost art.

Thank you a million times.

Chetna Lawless
Participant in 2013 in-person Intuitive Storytelling training with Leo
Lyme Regis, England.
8 weekly calls, lasting 90 minutes
Beginning Wednesday 10th January 2018
Our time will be shared between direct teaching with questions and guided exercises with sharing. The classes are very interactive and will get you started with your assignments for the week. We'll create a safe environment. You'll be encouraged to share, but you don't have to if you don't want to.
Audio recordings for each class
Each call is recorded so that you can listen to it again. And I will send you the recording within 24 hours of the class so that you won't be behind if you can't be there in person.
Notes from the class as a PDF
You'll receive the main teaching points for each class, so that you'll be free to listen and not take notes, if you prefer.
Weekly storytelling exercises
You learn best by doing. And yet as a parent of young children, you don't have a lot of time to yourself. However, most of these exercises are intended to be done with your children. We'll look at the conditions needed to create special, uninterrupted time together. We'll build up your skills and confidence step by step, and get your kids used to hearing stories in this way from you.
Additional Bonus Material
I'll share with you some of my favourite recordings of me telling stories to my own kids at bedtime, complete with their questions, laughter and other funny noises, to give you a feel for what it's like to tell intuitive stories at bedtime. We'll review these as we go along, drawing lessons and bringing the course material to life.
This workshop was really exciting and I enjoyed absolutely everything about it. It was very well organised and Leo created a great atmosphere. It has been really wonderful to discover that this method really works and that I can trust that the story will come!

Kirsti Grønning
Participant in 2012 in-person Intuitive Storytelling training with Leo
Oslo, Norway
Bonus learning packages
To help you deepen your understanding of three of the core teachings of Intuitive Storytelling, I've created these three bonus learning packages. Each includes:
An interview with an expert in the relevant field.
A story told by me inspired by the interview
A follow up interview, in which we share our insights from the story.
1. Developing Emotional Honesty, with Jurgen Engel
Telling intuitive stories requires us to be honest with ourselves and others.
Jurgen Engel is a trainer of Nonviolent Communication, supporting people to accurately identify their feelings and needs and express them to others in a way most likely to create positive outcomes.
The conversation we have, and the story it inspires, explore how beneficial it can be to take time to really identify how we are feeling about the things that matter most in our lives, and how this can allow us to be more creative and to enjoy our lives more.
2. Refining our inner senses, with Chetna Lawless
Telling intuitive stories involves becoming more sensitive to our inner world.
Chetna Lawless is a modern day mystic, who trains healing practitioners to listen intuitively for guidance and give shamanic healings. She has spent decades honing her ability to receive intuitive information.
The conversation we have, and the story that it inspires, explore the many ways that our inner guidance can communicate with us, how best to prepare ourselves for intuitive work, and what it takes to bring our intuition into form such that it can serve others.
3. Caring for the inner relationship, with Anita van der Meer.
Telling intuitive stories involves caring for the relationship with our inner guidance.
Anita is a voice therapist who uses the voice as a diagnostic tool, and as a way of achieving greater balance. She says "our voice reveals a deep truth about ourselves that our words cannot. It is a way of accessing our truth, without the distortion of the mind."
The conversation we have, and the story it inspires, explore how to cultivate discernment in all our inner work; how to stay grounded and build a strong and durable relationship with our inner guidance.
In summary
8 live calls at 8pm UK time on Wednesdays: January 10th, 17th, 24th, 31st and February 7th, 14th, 21st, 28th.
Audio recording of each call
Study notes for each class
Bonus: 3 of Leo's best bedtime stories.
Bonus: Interview/story packages on Emotional Honesty
Bonus: Interview/story packages on Seeing the Inner Landscape
Bonus: Interview/story packages on Opening to Intuition
Price
£150


(early bird rate: £125 until Sunday 17th December)